QClear
No Pain. No Pills. No Downtime. No Side Effects.
Lehigh Valley Dermatology is the first in the greater Philadelphia area offering the Q-Clear™ Laser System: the most advanced dermatologic lasers currently available for treating toenail fungus. It is one of very few FDA-approved lasers capable of multiple uses including temporary increase of clear nail in patients with Onychomycosis. The procedure boasts a 95% efficacy with no pain.
Toenail fungus, while common enough in men and women, is an embarrassing condition that causes thickened, yellowed toenails that can last for years. If left untreated, it can cause nail discoloration, cracking, and disfigurement of the nail. While there are various methods to treat toenail fungus—topical, oral or systemic medications—the success rates of any one solution make it difficult to treat the problem completely. In addition, there's always a risk of side effects for some of these treatments, even liver damage for those taking some prescription medications.
Typically done in three treatments, spaced at one month intervals, visible improvement will appear as the nail grows. This may take up to 9-12 months.
Dr. David Vasily is a valued consultant to the company that makes the QClear laser, Light Age Inc. Light Age is a global supplier of advanced and state-of-the-art laser systems, which Dr. Vasily has enjoyed a long history with. New studies are planned with this device at Lehigh Valley Dermatology.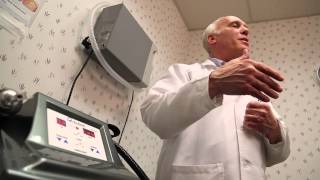 Q-Clear Toenail Fungus Laser Lehigh Valley Dermatology
Q-Clear Toenail Fungus Laser Lehigh Valley Dermatology

There are many treatments for troubling toenail fungus. Some have side effects, others take years. The new Q-Clear laser system at Lehigh Valley Dermatology clears toenails in three treatments. No pain. No downtime. No Side Effects.